By Stephanie Nolting, DPT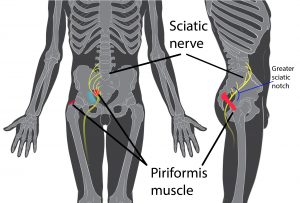 Sciatica is pain that starts in the back or gluts and runs down the back of the leg (sometimes just to the knee but it can extend all the way to the foot).
This pain is caused by irritation of your sciatic nerve (the biggest and longest nerve in the body). At its thickest point in the middle of the buttocks, it is as thick as your thumb!
This nerve can be irritated by many structures in the body (disc, muscle, bone from spurs,  arthritis or poor alignment). Once there is pressure on a nerve, it becomes swollen and painful until the pressure is removed. Unlike muscles that can get immediate relieve from pain with a change in position or movement, irritated nerves often stay irritated even once the original pressure issue is resolved.
Physical Therapy can help you figure out where your sciatic nerve is being irritated, fix the issue by changing pressure on the nerve, and give you ways to prevent this pain from returning.
*Quick tip to avoid sciatic pain: don't have regular uneven pressure on one side of the body like sitting on your wallet. Switch sides often or find somewhere else to put it.
Come to my free workshop on February 19, 2019 from 5:00-6:00 pm to learn other ways that you can prevent and reverse sciatica pain. RSVP @ www.pt-connections.com or call 719-565-6678 to sign up!