What Are People Saying About PT Connections?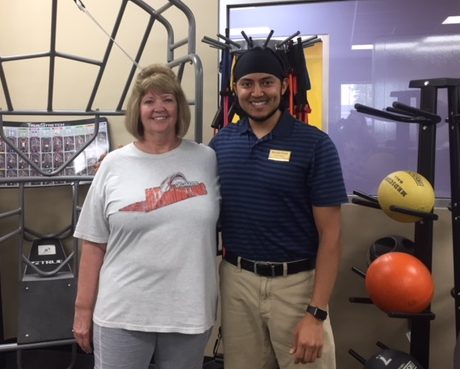 "This is by far the best physical therapy clinic in Pueblo. I have had 2 knee replacements and was so impressed with their knowledge and total body approach to physical therapy. I'm going to be rehabbing from a shoulder surgery and this clinic is the only place I considered. I also see Michael Coffee who is the most amazing massage therapist ever! They all work together as a team to improve my pain and health. The front desk and back office staff are awesome and I'm always greeted with a smile. They even came to get me when I couldn't get a ride. Can't say enough good things!!"-Debbie
---
"I've been taught techniques to relieve my pain and I can now do day to day activities without pain. Learning how to permanently rid my body of the pain I was feeling with special exercises tailored to me is what I liked most!" – Jen
---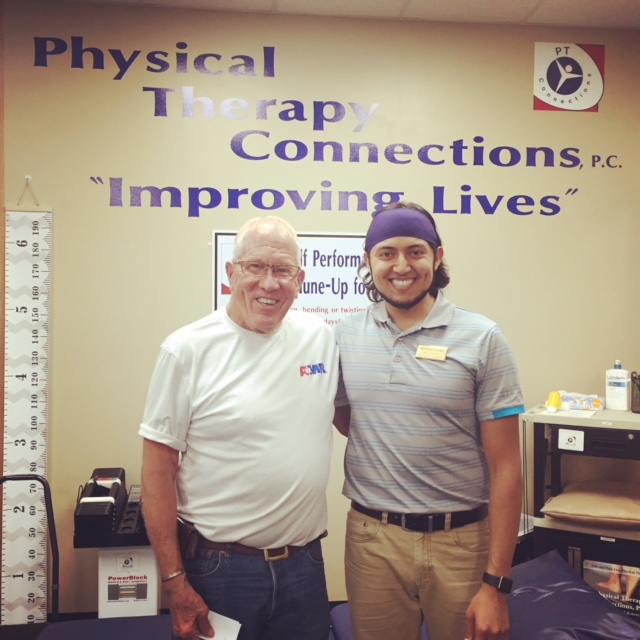 "My knee pain is going away and my legs and knees are stronger.  I learned how to keep my body moving and learned how to stay mobile as I get older.  The people are wonderful and kind. Adrian was the best. He truly cared about my well being and was a great teacher/mentor." – Merrie
---
"I am more conscious of what I need to do as far as regular exercise.  I have seen much improvement and am able to walk longer distances.  The employees are very conscientious and friendly.  The physical therapists are all well trained and knowledgeable." – Bobbie
---
"This experience made me realize that if you don't use it, you lose it.  I liked the personal care and how upbeat and supportive the therapists are." – Mary
---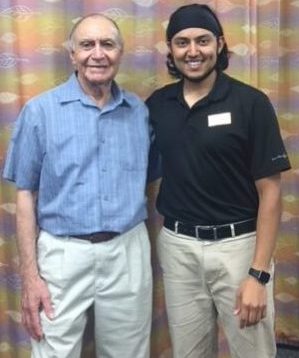 "My pain and discomfort is relieved in my lower back area. The exercises are great to do before and after working in the garden.  The muscles in my legs and back relax in a matter of minutes.  I loved the friendliness and attentiveness given while I do the exercises." – Anonymous
---
"The staff was very patient, treated me kindly and listened to me. PT made my legs stronger and I was able to begin to walk.  I can honestly say I didn't dislike anything." – John
---
"My 4 month knee pain was 80% better after just 1 visit!  My physical therapy worked and everyone was very nice." – Sam
---
"My bladder problems are essentially gone. I know the exercises to do to maintain my pelvic floor muscles.  Stephanie was incredibly helpful and helped establish new habits.  She is incredibly knowledgeable!" – T.K.
---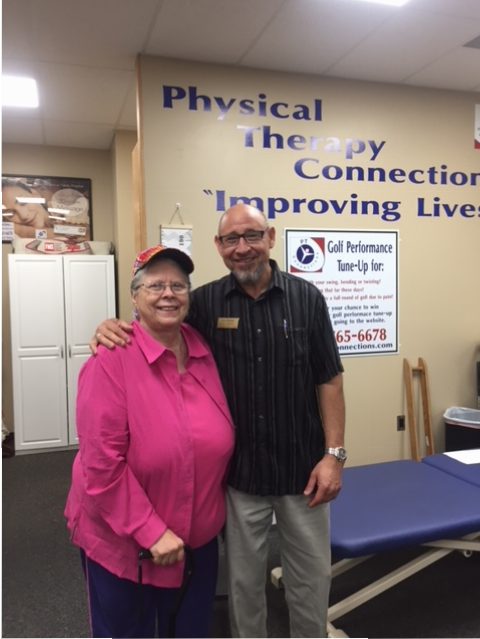 "Everyone greets you so nicely and tries to ease your pain with exercises and encouragement.  You just have to keep trying, give yourself time and don't get discouraged!" – Donna
---
"I liked the personal touch that the staff offered. They are truly people who care." – Tom
---
"I came in with my left leg numbness, extremely tight hips and back pain after pregnancy.  I'm leaving on my last day after a year of not feeling my leg.  I can finally feel it!  Everyone in the office was so nice and welcoming.  Every time I came in Sam knew exactly who I was.  It made it very personable.  Stephanie was amazing and was interested in my home life, not just about PT.  You can tell they really care about their patients." -Brit
---
"The therapy was so helpful and my knee feels much better.  I liked how friendly and helpful everyone was. I really liked Max!" – Devin
---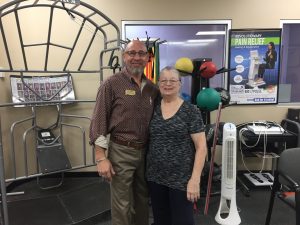 "This is only the second time I have gone to a physical therapist and this was by far THE BEST!  I liked the knowledge of the therapists and the success of the treatment." – R.E.
---
"They gave me the tools (exercises) to help me with the issues I have.  Stephanie was very caring and listened to my needs." – Karen
---
"I loved how helpful and compassionate Stephanie was.  I am now able to get out and roam around in the mountains and take trips!" – Patsy
---
"PT really lowered the level of pain I was living with and gave me hope for a positive.  The treatment was non-invasive and I was given so many tools I could use at home to prevent the pain and treat myself long term." – Tanya
---
My life will change by doing the exercises I have. Not only started to feel better, I am losing weight. The exercises are easy and I have started to involve my wife. Together we are starting to exercise after years of doing nothing. I am hoping it brings a better quality of life. Thank you for making this simple and fun. Good luck in your future. – Mark G.
---

"I have attended many physical therapy programs over the past 30 years. This program is the most unique in application but also the most productive in spite of the increase in my golden years. I also had good therapists, but I feel Mike has been able to make unique adjustments to assure I am getting the most relief. His training and his application of having to hit a moving target, so to speak – is evident in the results. Excellent therapist as well as a person over all. Kudos to Mike. And thanks!" – Al S.
---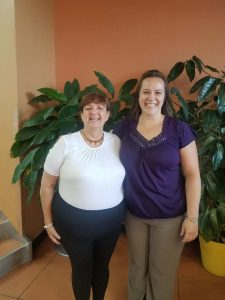 "I feel great thanks to the great work and therapy I received by Mr. Michael Flores. God Bless." – Cece G.
---
"I experienced more mobility in my arm with each treatment. The treatments were enjoyable even though painful at times. My life was changed as I can use my arm about as well as before the surgery. Thank you Michael and Max." – Jean R.
---
"I am so pleased with the care I have received. The exercises I have been given have changed my daily living considerably. I am able to reach and move my shoulder and arm to a normal position in most everything I attempt. Thanks again!" – Anonymous
---
"I have been getting severe headaches in the middle of the night for almost 8 years. Additionally, I had severe sharp pain in my shoulder and I was convinced I was facing surgery. Michael Flores convinced me I should give physical therapy a chance for a few sessions and home exercises. Miraculously my pain in my shoulder has all but subsided and I recently went almost 3 weeks without a headache! This is huge for me and something I never thought would be possible but I was forever hopeful. The team at PT Connections not only diagnosed my issues, but worked on correcting them, and they were pretty complex – certainly nothing that numerous doctors and specialists could figure out. I am forever grateful."  – Pamela C.
---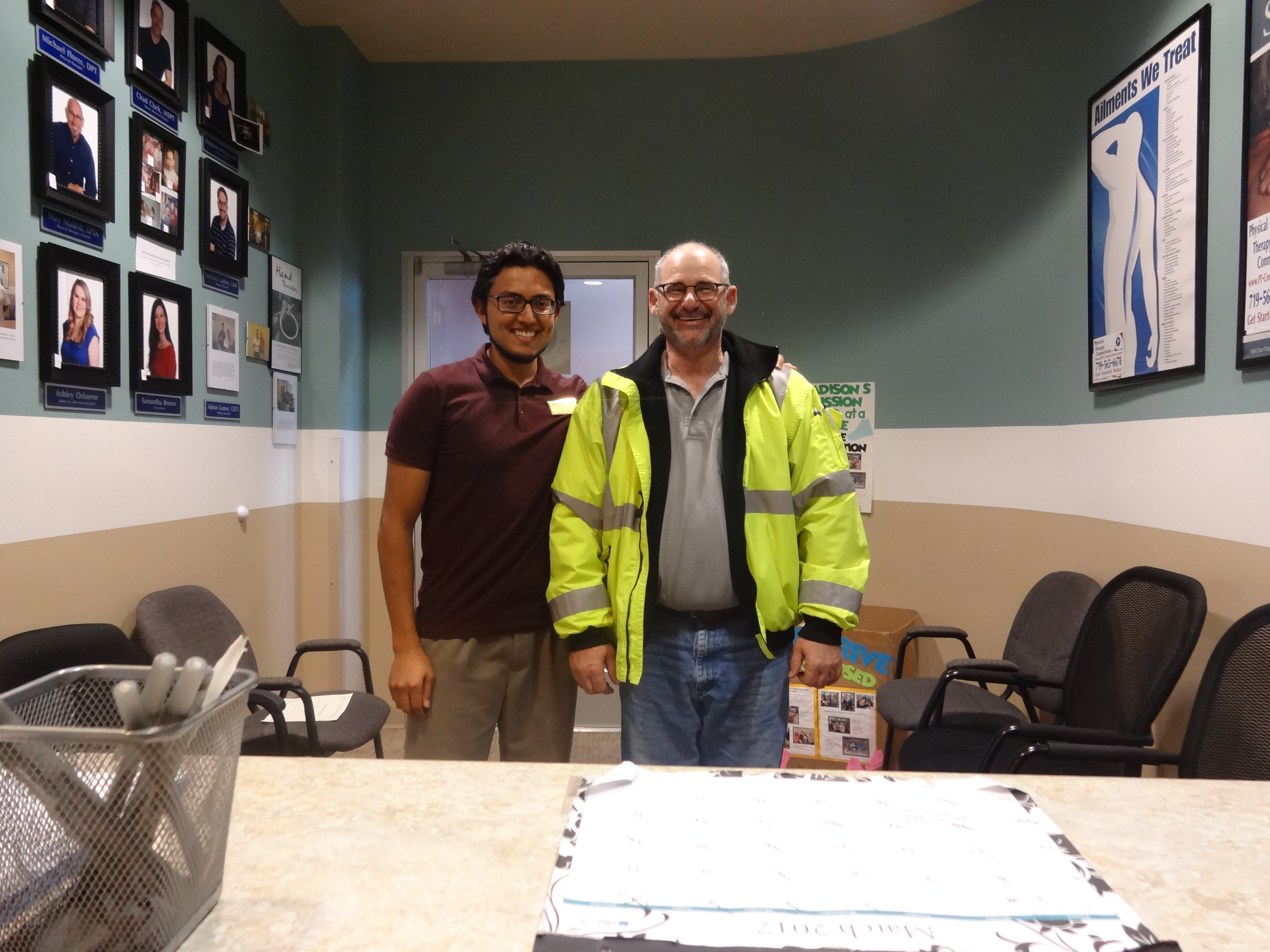 "Great. Mike works very hard at helping me with all my workouts. I am walking and doing my everyday life with so much less pain and feel so much more motion. I don't feel like I am 75 years old. I am back to building Hot Rods and riding my Harley. I would recommend you to anyone. Thank you so much." – Terry M.
---
"Michael gave me the confidence that this will be my last shoulder surgery with no more dislocations because of the assessment and specific exercise program; specific to me. I could notice significant improvement from the ongoing reassessments for my shoulder prior to and after my surgery. I'm in less pain and able to do so much more every day with my shoulder being more stable. Michael and Max are excellent in determining what program is in the best interests for me to return to the best possible function. Both are pleasant, creative, and fun to work with. Thank you so much." – Linda R.
---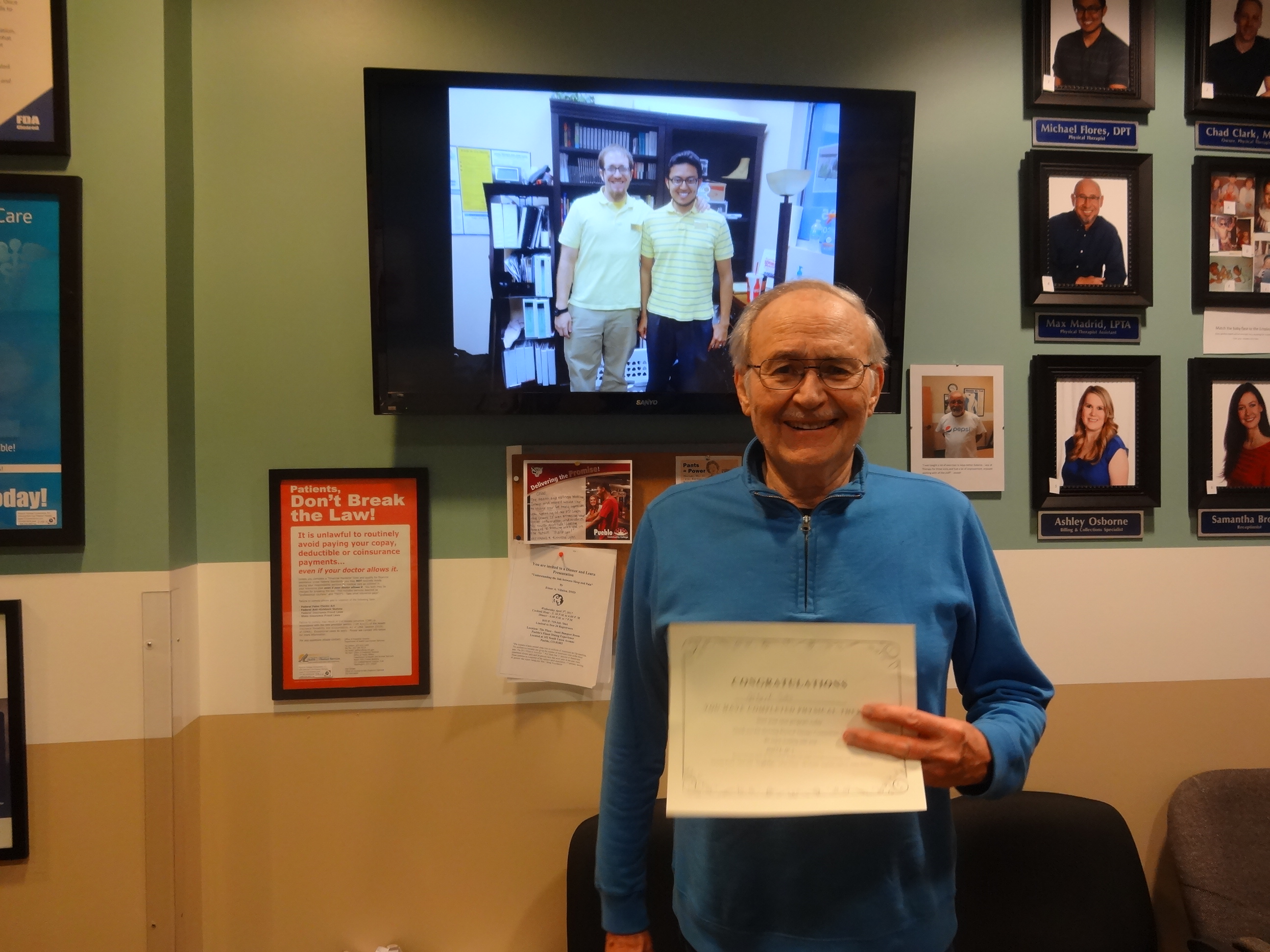 "I attended Chad's seminar at PCC and he said all the things I wanted to hear. I was experiencing pain in my thighs and hips – the cause was my back. After 5 sessions my pain was gone except for the groin pain but that soon disappeared as well. Now I will continue maintenance exercises and attend in-house maintenance programs." – Lou T.
---
"I did not believe I could get better in the time I had. But not only did I get better, I wanted to dance by the time I was done!! This team was wonderful! Thanks for all you did!!" – Melissa W.
---
"Overwhelmed me with knowledge and expertise. Always working to motivate me to excel and improve. You can tell Michael loves what he does!" – Rick E.
---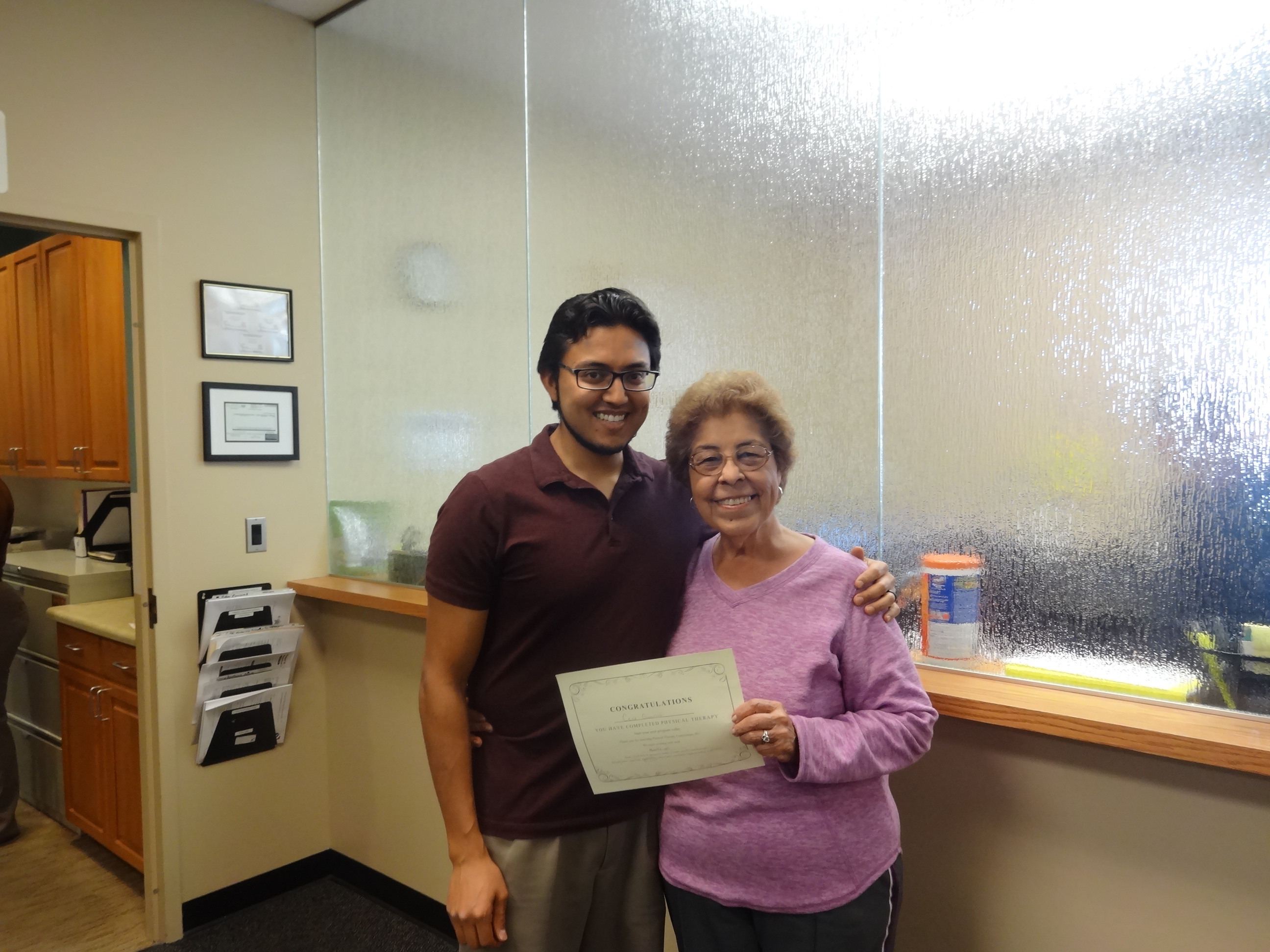 "My therapist was very knowledgeable and a lot of fun. He personalized my treatment, using my interest and experience to maximize my performance as well as showing me safe ways to increase my range and strength. I always felt like an athlete training while I was here. He also had answers and recommendations for all my questions." – Shirley A.
---
"You have changed my life by helping me with everything, especially the exercises with everybody. I enjoyed working with everybody." – Duane K.
---
"I received individual help and care that I needed. Special thanks to Michael Flores and Max Madrid, Samantha for accommodating changing times and dates. Max and Michael Flores never gave up on me, Even when I gave up on myself." – Joan P.
---
"It is indescribable how the therapy took me from replacement to returning to normal activities. To advance from a walker to a cane to full walking and ability to babysit again is extremely fulfilling. I enjoyed this staffs positive attitude from the front desk to each therapist. Stephanie is amazing in her work ethic encouragement, hands on massage and knowledge of how to bring my problem to the best outcome. She gave me hope and inspired me to work hard. She cheered my accomplishments along with me." – Carol D.
---
"I learned to always keep in mind body movement and balance. Along with the importance to stay active. I enjoyed the staffs kindness and care for my physical being" – Terry G.
---
"After getting my cast off, I had limited range of motion and strength. After 3 months at PT Connections, I was able to perform all work tasks that I would do pre-injury. What I liked most about my experience here was the detailed and expert attention provided by all the staff, I enjoyed everything!" – M.P.
---
"The physical therapy was able to help me regain better range of motion in my shoulder and neck. She was able to teach exercises that also strengthened that area. In all, it reduced pain in my shoulder, neck, and head by quite a bit. Stephanie is the best PT I have ever had. All of the staff are friendly as well, they also worked around my schedule." – J.G.
---
"My rotator cuff was torn real bad. The doctor did surgery and thanks to your knowledge on therapy and conditioning it got me back into shape. You showed me how to do it right and not to push too hard. You helped me get my shoulder back to working right. I just have to get my strength back by doing your workouts. I liked how you kept telling me not to work slowly on my exercises and not to get discouraged or give up. The ball in bag exercise worked really great. Thanks!" – C.S.
---
"Thank you so much Stephanie and Max for showing me so many things to do for my knee! Thank you Sam for also helping me, you are all the best and so wonderful to help so many people!" – S.H.
---
"Stephanie helped me very much and showed me how to maintain my situation. She took her time working with me and answered all my questions." – E.G.
---
"My experience at PT Connections definitely had a positive impact on my life, as therapy for my total knee replacement surgery helped me to gain my strength, flexibility, and mobility in a short period of time. The entire staff was pleasant, personable, and caring. PT Connections seems to concentrate the rehab efforts on improvement not punishment!" – L.L.
---
"The exercises and stretches helped with movement of my left hip. Before PT I couldn't sit with my legs crossed, I had difficulty lifting my daughter, and I was in pain stepping into my pants! Stephanie is very knowledgeable, I love that she challenged my skills! And Sam, she is so delightful!" – L.G.
---
"My experience with Physical Therapy Connections changed the way in which I approach and think about how to take care of myself from a science and health point, rather than "putting the pedal to the metal. What i liked most was the opportunity to learn and understand different techniques, exercises, and the impact they can have. Stephanie and Max were both very knowledgeable and great to work with! My whole experience was awesome!" – K.H.
---
"My neck feels much better, if I keep doing my exercises! What I liked most about my experience was that it was pain free, I always learn more, and it was always professional." – Y.K.
---
"My experience with Physical Therapy Connections changed my life because it helped me to understand how to treat the pain and tight muscles in the hip and knee. It also helped me rehab the hip post surgery, improve the strength in my hip and knee, and return to being active! What I liked most about my experience was the exercises taught to me, the home program, and the cautions taken due to COVID-19. Stephanie was very professional and a good teacher! What I liked least was Max's corny jokes, just kidding! Thank you to Stephanie and Max for all your help, you're the best!" – G.H.
---
---
"This experience changed my life by noticeably decreasing urinary incontinence from prostate surgery. I learned a lot about muscle function and muscle control through pelvic and abdomen areas. No complaints!" – S.P.
---
"I am now able to function normally! What I liked most about the experience was they provided better quality of life in a laid back environment." – B.A.
---
"Coming to PTC not only helped the immediate problem, but it changed my outlook on life! I liked the people, their expertise, and compassion. What I liked least was the fact that my sessions have ended! Thank you much!" – R.B.
---
"Michael was adept at getting to the many roots of my problems. I was in and out, no waiting and plenty of parking. I also felt safe with the office's observance of COVID protocol." – D.O.
---
"I could barely walk with sciatica pain, now I am totally back to normal. I liked the knowledge that was displayed by Stephanie Nolting. I have no complaints at all. I cannot imagine a better experience." – L.N.
---
"I'm doing things I have not been able to do in six years! Everyone is great and caring." – T.M.
---