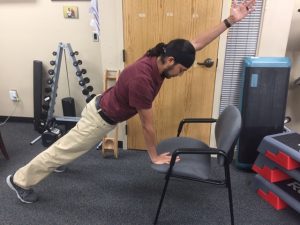 Shoulder Impingement by Michael Flores
Who should read this article?  An easy answer to this question is "anyone with shoulder pain who wants to be able to move better."  Regardless of what kind of injury, weakness, or pain is affecting your shoulder, you will benefit from reading this.  To be more specific, I am going to talk to you about shoulder impingement.  If you have ever been labeled with this diagnosis, then you know how painful it can be.  Not only that, but you have probably realized by now how much it can affect your life.  Personally, I have never had impingement, but I have injured my shoulder before.  I wish I had an amazing back story like injuring it while rock climbing, but the truth is that I fell off a swing (as a teenager) and ended up spraining my AC joint.  From that experience alone, I know just how difficult it is to not have use of one arm.  It affected everything: showering, getting dressed, using the bathroom, reaching for bowls and cups in the kitchen, running, and most importantly my ability to ride my bike.  I used to think, "Oh, what I would do to just speed up my recovery and be able to ride my bike again."  As you are reading this, you might think the same thing, but just replace ride my bike again with whatever activity you most enjoy but haven't been able to do to because of your shoulder pain.  Well, if I can help even one person achieve their goal and get back to doing that one activity he or she just absolutely enjoys, then it makes it all worth it.
So, what exactly is shoulder impingement? Shoulder impingement is a compression, pinching, or irritation of the soft tissue structures located under the coracoacromial arch (the roof of your shoulder blade). The most commonly affected tissues include: the long head of the biceps tendon (the muscle responsible for bending your arm), supraspinatus tendon (part of the rotator cuff), and subacromial bursa (a fluid filled sac intended to reduce friction).
Here is a link to the "Do's and Don'ts" if you are experiencing shoulder pain or neck stiffness:  https://www.youtube.com/watch?v=lmM0_7yWkBY&t=32s
Just by reading this blog about shoulder impingement, you have already started healing your shoulder.  If you want to learn more, be sure to attend my free workshop on 4/22/2019 from 5:00 pm – 6:00 pm at Physical Therapy Connections, PC (inside of the Pueblo Athletic Club).  We'll be going over things that you can do at work to help prevent and reverse shoulder impingement.  See you then!!