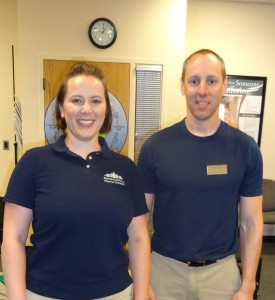 Chad Clark, MSPT, CSCS
Chad is a Physical Therapist, and Certified Strength and Conditioning Specialist in Pueblo, CO at Physical Therapy Connections, P.C. Located at 58 Glenroyal Drive, Pueblo, CO 81005. Chad recently applied SFMA (Selective Functional Movement Assessment) skills to his evaluation and uses this head to toe screening to help patients and clients to get better faster.
Chad Clark, MSPT, CSCS and Stephanie McEvoy, DPT have both completed the SFMA course recently. SFMA is a Selective Functional Movement Assessment that is a head to toe exam. With the SFMA you can be screened, evaluated and treated very specifically. The benefits of this SFMA screen are; improved symmetry, increased mobility and stability, pain relief and much more.
SFMA is appropriate for all ages. Your movement patterns in all major joints are assessed. When the SFMA is complete you will know what treatment will be best to help you get better faster. Just because something is painful doesn't mean it is broken and just because something moves doesn't mean that it is functional.