Neck and shoulder tension causing you pain throughout your day?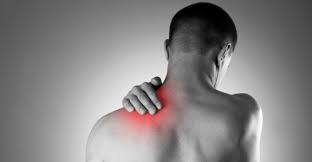 Neck and shoulder tension can sometimes cause headaches, neck pain, and/ or pain in the shoulders when raising your arms. Here at Physical Therapy Connections we have a few different things you can try to release that tension. Sometimes jobs can put stress on your neck and shoulders such as a typing job or one that requires lifting or carrying heavy objects. Sleeping on your shoulders in a funny position or stressful situations can also trigger your shoulders to tense up. If the pain is from an injury or a muscle tear do not do these exercises without checking with your doctor first or you can always call us to make sure these exercises are safe to do with the pain you are having. The first thing you could try is an Assisted Pull-up Motion. You can also try massage and some yoga exercises.
Assisted Pull-up Motion:
First find something stable that is slightly taller than you to grab onto, such as a refrigerator, cabinet, or even a pull up bar if you have one available.
When doing this exercise your legs will be doing 90% of the work and your shoulders will only be doing 10%.
Reach up and grab the stable surface, as if you are going to do a pull-up.
Pull your shoulders down while standing up onto your tip toes, go back down onto your heels and release your shoulders, then repeat 10 times.
If you feel like it is helping and you want to do more, then repeat for a second set.
https://www.youtube.com/watch?v=583n3p-UbSU <<<<< Click here for demonstration of Assisted Pull-up Exercise
Massage and Yoga Exercises:
These next 3 exercises can be done sitting at your desk, on the ground, or standing. Threading the needle works best when sitting at a desk or on hands and knees. Click the links below to see these exercises demonstrated by one of our staff members.
Head massage
The cat/ cow
Threading the needle
https://youtu.be/kDwls9Kg7Rg  <<<<<< Click here for demonstration of the Cat/ Cow and Threading the Needle Exercise