6 Directional lunges refers to performing lunges in different directions to improve your balance. These exercises can also reduce risk of falling and help you feel more confident when walking on your own. The lunges do not have to be deep or knee to the ground. Just a slight bend in the knees is okay to start with. The step out does not have to be big either. You can also start by using a chair for support. Move at your own pace and at your own level of comfort. If you need a little more of a challenge, then you can sink deeper into each lunge or step out a little further. If you do not feel comfortable doing these exercises on your own, please give us a call to schedule your appointment today so we can get you the assistance you need, 719-565-6678.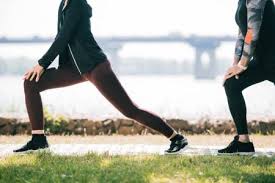 Directions:
1st direction- Forwards (Mini-lunge)
2nd direction- Backwards or Reverse
3rd direction- Lateral (outside) Side Step out
4th direction- Cross over other leg in front or behind
5th direction- Lateral Pivot (Turn toe to point out)
6th direction- Pivot Cross over the other leg in front
Click below for a demonstration of the 6 directional lunges!