Ankle Mobility is important because it can reduce risk of injury. It can also improve form in exercises like lunges, squats, and running gait. Losing mobility in your ankles could lead to injuries or pain in your knees or other connecting joints and muscles. There are exercises you can do to increase ankle mobility at home or at our clinic. One exercise you can try is rolling your ankles in a circle clockwise, then counterclockwise. Another exercise would be moving your ankle by outlining the ABC's with your feet. Listed below are some other exercises or stretches you can do at home to increase ankle mobility. If you do not feel comfortable trying these on your own, please give us a call to schedule your appointment today with one of our physical therapists.
With these exercises and stretches, move at your own pace and if you need to use a chair or wall to hold balance.
Exercises:
Standing in split squat position with hands against wall-

Rock the front knee forwards and backwards by flexing then extended.
Keeping toes pointed forward, twist hips to the right side, then to the left.
Feet stay planted, hips squared to the front, swing hips side to side.
Now, repeat these exercises with the other foot forward.

Stretches:

Point toes in plantar flexion and hold for 10 seconds.
Bring toes back towards the body into dorsiflexion hold again for 10 seconds.
Standing with feet hip width apart, hold a chair or a wall to help balance. Tilt 1 foot at a time so the outside or lateral part of the foot is pressed against the ground- hold for 10 sec.
Then, tilt foot the other way so that the inside part of your foot is towards the ground, hold for 10 seconds.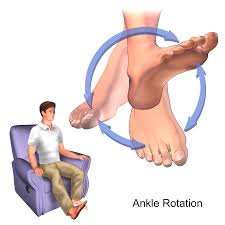 https://youtu.be/wNUwKl8DQNA   <<<<<Click the link to see more exercise to improve ankle mobility.