AC Joint Solutions
How to check for AC joint or Acromioclavicular joint pain and are there solutions you can do at home?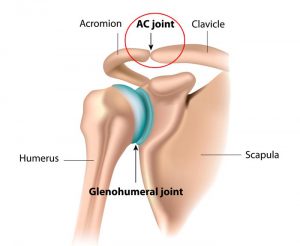 To check for AC joint pain, start by reaching across your chest to grab your opposite shoulder and lift that elbow slowly to your nose, while keeping contact with your hand on your shoulder.
Wall Grab and pull- grab an open door frame slightly above your head, with your arms straight, using 1 or both arms at a time, slightly bend at the knees and slowly sit back into your hips, stand back up, then slowly back down to work the AC joint up and down. You can also move side to side with your hips in a slight squat position, while still holding the wall.
Remember, if you are only working the shoulder with pain, then you should switch and try with the other shoulder. It is best to work both shoulders too, even if only one shoulder has pain.
Check AC joint for pain again after doing these exercises, to see whether or not pain is reduced. Check out the video below. If you still feel pain or feel more comfortable setting up an appointment, feel free to call our office today- 719-565-6678.
https://youtu.be/KavZTSiJo4o   <<<<<< CLICK THIS LINK FOR MORE INFORMATION ON THESE AC JOINT EXERCISES