Three-Dimensional Whole Body Treatment Approach 
We offer a safe, simple, painless, three-dimensional whole body treatment, serving you in a personalized, optimal healing environment helping you by getting to the root of your issues. Our progressive techniques are sure to produce the results that you desire with your pain relief. As a patient, you will undergo a complete physical exam, one on one with a skilled therapist who will listen, understand, and be quick in determining your needs. Even if you have tried other treatments and therapies, we offer programs that are right for you and are proven to be the MOST effective for people suffering from:
Benefits of Our Programs:

1. Reduced pain
2. Start seeing immediate results
3. Learn how to avoid future problems
4. Live life more enjoyably
5. Return to a more active lifestyle
6. Sleep better
7. Increased flexibility & movement
8. Improved core stability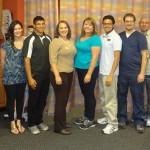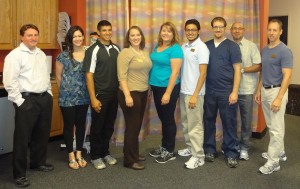 We would like to welcome you to Physical Therapy Connections, P.C. 's
BIG 10 Year Celebration.
Where: City Park
When: August 23, 2014 @ 10am-2pm
Who: Patients/Clients/Family/Friends/Doctors/Public
What: 10 Years of Excellence in Private Practice Physical Therapy
How much: FREE
Fun, Games, Celebrate!
We would like to invite you and your family/friends to attend the "BIG 10 YEAR CELEBRATION "for Physical Therapy Connections, P.C. at the City Park on August 23, 2014. It all started over ten years ago when owner and… Continue reading →
Functional Movement Systems certifies movement specialists as FMS Level 1 (Functional Movement Screen) Physical Therapist Michael Flores has become Level 1 Certified and looks forward to September where Physical Therapist Chad Clark, MSPT, CSCS, and Wellness Specialist Adrian Gomez, CSCS… Continue reading →
Congratulations to Adrian Gomez, CSCS as of May 2014 is a Certified Strength and Conditioning Specialist through the NSCA (National Strength and Conditioning Association). Adrian is a graduate of Colorado State University – Pueblo where he earned a degree in… Continue reading →
Congratulations to Michael Coffee, NCMT, MMP who as of July is now a Medical Massage Practitioner. Michael is dedicated to improving the quality of life for all his clients. Michael has a genuine love for massage and believes it is… Continue reading →