Great News!You Don't Have to Worry If You Can Afford It or Not
Watch Video to Find out Why
PHYSICAL THERAPIST SHARES HOW HE WENT FROM HAVING $250,000 DOLLARS IN DEBT, TO HELPING MORE THAN 6,113 PEOPLE TO ACHIEVE THEIR MAXIMUM POTENTIAL AND ELIMINATING THAT DEBT ALONG WITH THOUSANDS OF ACHES AND PAINS FOR PATIENTS.
                              Call to see if this is right for you
                                              719-565-6678
"
My life will change by doing the exercises I have. Not only started to feel better, I am losing weight. The exercises are easy and I have started to involve my wife. Together we are starting to exercise after years of doing nothing. I am hoping it brings a better quality of life. Thank you for making this simple and fun. Good luck in your future.
– Mark Gocha
​
"
I have attended many physical therapy programs over the past 30 years. This program is the most unique in application but also the most productive in spite of the increase in my golden years. I also had good therapists, but I feel Mike has been able to make unique adjustments to assure I am getting the most relief. His training and his application of having to hit a moving target, so to speak – is evident in the results. Excellent therapist as well as a person over all. Kudos to Mike. And thanks!
 – Al Sabo 
"
I attended Chad's seminar @ PCC and he said all the things I wanted to hear. I was experiencing pain in my thighs and hips – the cause was my back. After 5 sessions my pain was gone except for the groin pain but that soon disappeared as well. Now I will continue maintenance exercises and attend in-house maintenance programs.
– Lou Truhlicka
30 Day No Questions Asked Money-Back Guarantee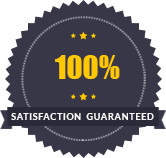 You are fully protected by our 100% Satisfaction-Guarantee. If you don't increase your website's conversion rate or revenues over the next 30 days, just let us know and we'll send you a prompt refund.