Michael Flores is a Doctor of Physical Therapy in Pueblo, CO and has a strong interest in shoulder conditions. Michael has attended shoulder specific courses and is up to date on the most effective treatments that are pain free and safe. His treatment towards solving shoulder issues is top notch. With the experience and interest that Michael has, he has helped over 1,590 in just under 5 years at Physical Therapy Connections. Many of his patients having a shoulder or shoulder related issue. Our patients love Michael.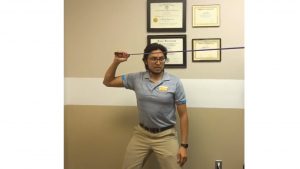 719-565-6678 if you have questions about how to start physical therapy for that annoying shoulder issue, just call.
It's as easy as 1-2-3! Don't wait until your shoulder gets worse, get a hold of us now.
Not Convinced – Read More Here
We are confident that you will love Michael and his approach to getting your shoulder back to health.
So don't wait any longer, get the help you need with the specialist that is right for you.
Michael Flores, DPT
PT Connections Shoulder Specialist