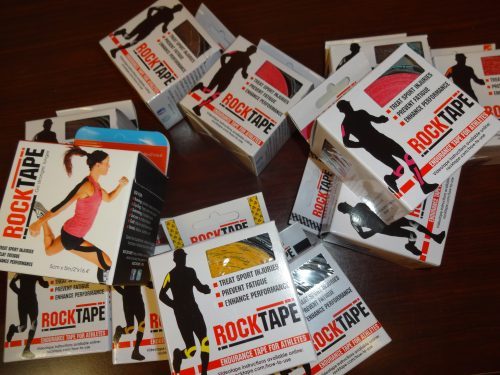 Many of you have probably seen athletes who are wearing tape while playing a sport. It can be applied on their knees, elbows, shoulders, wrists and many more areas. There are several different kinds of Sport Adhesive methods, but we want to let you know why we use RockTape or Kinesiology taping at our clinic.
Kinesiology taping was originally created by Kenso Kase in the late 1970's. His philosophy was to target the skin as a mode to help the muscular system heal. There are now over 50 brands of kinesiology tape available.
Many of the athletes that I mentioned before tend to wear athletic tape rather than kinesiology tape. There are many differences between the benefits of kinesiology tape and athletic tape. Here are some examples of why we use Rocktape:
Athletic Taping – Stabilizes, restricts movement, restricts circulation and blood flow and restricts fluid exchange.
Kinesiology Taping – Allows proprioceptive input, increases circulation, withstands fluid, allows increased muscle force, stabilizes, allows mobility, normalizes function.
As you can see, the benefits of kinesiology tape clearly outweigh the benefits of athletic tape!
When Kinesiology tape is applied correctly after each individual assessment, it also provides afferent sensory stimulation, increased vascularity, promotes full range of motion, is comfortable and has minimal irritation, promotes superficial and deep vascular and lymphatic flow, can limit muscular atrophy, and promotes movement across kinetic and fascial chains. Rocktape is also water resistant and can be worn while swimming or in the shower. It typically can last 3-5 days depending on your level of activity.
Our clinicians are professionally trained to apply Rocktape by a "Rocdoc" and always assess your individual needs before application.
For more information on Rocktape click HERE. When you would like to secure your Rocktape appointment, call us at 719-565-6678. We'd love to help!